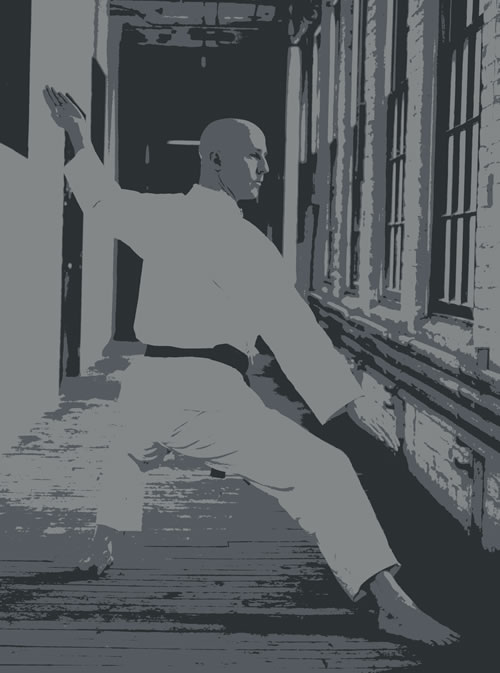 I wish I could say that my martial arts training started with an exhaustive survey of East Asian styles, in which I carefully chose Ji Do Kwan after considering how its traditions and techniques fit my values, personality, body type, and cultural interests. Actually, it was just good luck: Daniel Hays ran the phenomenal Tae Kwon Do club at Connecticut College, where I spent my undergraduate years. I loved working my way through the beginning/intermediate Geup ranks with Reg Edmonds and Ginger Harris, both of whom are lifelong friends who I got to know so deeply through TKD training.
I was so lucky to find such an inspiring teacher in my early practice—this crazy free spirit who seemed to live out of a Suzuki Samurai (natch) when he wasn't in the "Japanese Victorian" house that he and his father built on a teeny island in the Thames River. I was an arrogant, bitter, rebellious little dork, and Daniel was just the right guy to reach me. He was even farther out there than I was, but he ran a tight dojang and showed me that it's possible to be an anarchic weirdo outside but embrace the structure, self-discipline, tradition, and authority of the teacher and class inside. Daniel set the foundations for my understanding of martial arts training, and I hope my school carries through much of the tone and values that he established back then.
To my profound dismay, Daniel moved to Idaho during my junior year, and I thought my connection to our school was lost. I studied for a year with an ITF-trained instructor, Steven Humphries, who took over the Conn College club after Daniel left. Steve was a great teacher and practitioner, but that interpretation of TKD didn't speak to me as much as the Ji Do Kwan style that we all know so well. During my last semester of college, another bit of brilliant luck: one of Daniel's friends and comrades in training, Jeff Waller, moved back to the New London area for just that semester, and he was willing to continue working with Reg and me. By the time Reg and I graduated, Jeff had brought us to the level of 3rd Geup.
Jeff was passing through the area after chiropractic school (his folks lived there) and was looking for an established practice to buy in New England. He found one in Springfield, Vermont, which—by a freakish third coincidence—was about an 80 minute drive from where I landed after college: Northampton, Massachusetts. I worked my way through the levels of brown belt by visiting Jeff's dojang in Springfield whenever I could, then moved there for the summer of 1994, when I lived in a small apartment over his clinic while training for my Il Dan test. I had the pleasure of meeting and working out a few times with Toby Morral, who lived in that same apartment for a while just before I moved in.
After a few years in Houston for graduate school (MFA program, fiction writing) I returned to western Massachusetts and started River Valley Tae Kwon Do in 1997. I advanced to the rank of Yi Dan with Jeffrey Waller and was preparing to test for Sam Dan just before his sad early death in 2005. At that time, I inherited Jeff's students from Vermont and began training directly with our Master, Sean Owen of Durango, Colorado (then of Idyllwild, California) who has been overseeing our school ever since. Our school's current project is to work to ensure the success of our new home dojang in Florence. The longer term goal is to make the transition from a small isolated school to a small isolated institution that has traditions and people that transcend a single teacher or group of practitioners.
As with so many things that span decades, I'm not sure if the Ji Do Kwan style was the perfect fit for me, or if I've been shaped by it so thoroughly that it feels like I couldn't have thrived anywhere else. Regardless, I've trained in the style for more than half my life now, and it is where I find my spiritual home.
Outside the dojang I like all kinds of creative pursuits, primarily reading and writing literature, but also film/video, visual art, and music. I supplement my TKD training with weight training, hiking, and long distance running—highlighted by marathons in Chicago and New York City and the first "Beast" length Spartan Race at Killington in 2011. I played competitive tennis in high school and am now more interested in sick table tennis with power strokes and weird spins. Speaking of weird spins, I also love researching and learning craft cocktails and always love to hear about unusual ingredients and obscure recipes.
I met my wife, Julie, in 2013 and we got married in 2014. She spent two years in China, a year in Taiwan, and has a MA in Chinese Literature, so she's pretty sympathetic to east Asian pursuits. We're also both currently involved in a number of startup companies. . . always a recipe for a serene and contemplative life!