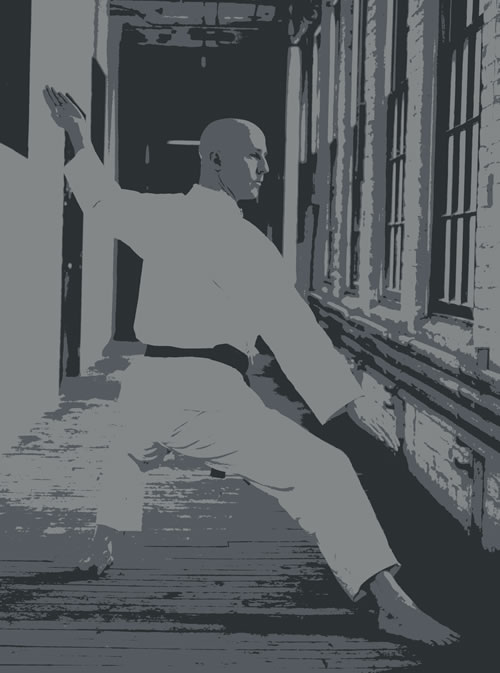 Training
O Dan, Jidokwan Taekwondo
Experience in Aikido, Hapkido
Weight training, distance running, obstacle races
Other Interests
Fiction writing
Website and app development
Ducati motorbikes
Craft cocktails
"Come to the edge," he said.
"We are afraid."
"Come to the edge."
And they came,
And he pushed them,
And they flew.
– Christopher Logue
William Tuman has been practicing and teaching the Jidokwan style of Taekwondo since 1989 and holds the rank of O Dan (오단, fifth degree black belt) from the Kukkiwon in Seoul, South Korea. The Kukkiwon is the parent organization for World Taekwondo and is the most widely recognized certifying body for this important part of Korean heritage around the world. He founded River Valley Taekwondo in 1997.
Tuman has experimented with other martial arts schools, and he appreciates different approaches to martial arts practice. He has made Jidokwan his chosen discipline because it most closely fits his values and spirit. Jidokwan is a technically rigorous, noncompetitive style that is beautiful, physically demanding, and can be used as an effective form of self-defense. The form was exemplified by Choi Bong Young, the Korean Master who brought his interpretation of Jidokwan to the United States in the 1960s and taught for many years in a school in Oakland, California. Tuman began his study with Daniel Hays in New London, Connecticut; tested for the rank of Il Dan with Jeffrey Waller in Springfield, Vermont; and is currently the student of Grandmaster Sean Owen of Durango, Colorado.
Outside the dojang (Taekwondo practice studio) Tuman is interested in creative pursuits in many forms, primarily reading and writing literature, but also film/video, visual art, and music. He is physically active and enjoys distance running, hiking, and weight training. He has completed marathons in Chicago and New York City and participated in the first "Beast" length Spartan Race in 2011. He played competitive tennis in high school but now only hits often enough to fool himself into thinking he can still pull off a decent second serve.
Tuman makes his living managing a software company and believes that a commitment to teaching Taekwondo on a nonprofessional basis has given him clarity in following the Way of his teachers and others who have come before him.